At EYECANDYAIR we are proud of our goalie family, so it's only natural that we want to show you off in every way possible.
If you enjoy being in the spotlight and taking advantage of all the attention you've been getting with your new custom airbrush painted EYECANDYAIR goalie mask, then we'd love to showcase you on our website.
If you are sporting an EYECANDYAIR painted masterpiece and would like to be a featured goalie please send us an EMAIL
FEATURED GOALIE INTERVIEWS (click to read)
EYECANDYAIR goes behind the scenes and does one-on-one interviews and profiles with selected members of the EYECANDYAIR family.
Covering topics such as game day superstitions, current gear setup, goaltending style and much more, it makes for some interesting reading so check it out!
WHAT OUR CUSTOMERS SAY....EYECANDYAIR TESTIMONIALS (click to read)
EYECANDYAIR goalies share their thoughts and feedback about their custom painted goalie masks and experiences dealing with EYECANDYAIR and the whole painting process.
Steve is very passionate about his art so we really appreciate all your kind words and feedback!
GOALIES ON ICE (click to see)
Here at EYECANDYAIR, there is nothing better than seeing our artwork in action. The photos you send us when you are all dressed up proudly sporting your EYECANDYAIR airbrushed masterpiece make our day and thrill us so much. Therefore, we continue to accept all of your action shots not only to display in our Goalies On Ice section, but also here in the EYECANDYAIR paint studio. **WE ARE NOW ACCEPTING ACTION CLIPS AND VIDEOS OF EYECANDYAIR GOALIES**
EYECANDYAIR customers in action proudly showing off their new custom airbrushed painted goalie masks. If you have an EYECANDYAIR helmet creation send us some shots of you in action so we can show you off!
Click on the goalie images to enlarge, *NOTE* if you have your pop up blocker enabled hold down Ctrl and left click on your mouse to bypass.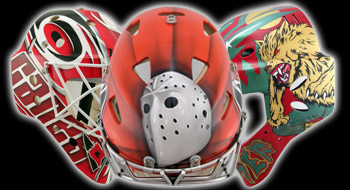 Contact EYECANDYAIR Today to Make Your Goalie Mask Art Dreams a Reality

via EMAIL: info@eyecandyair.com

or PHONE (416) 893-2702
"A GOALIE MASK WITHOUT EYECANDY.....IS JUST A GOALIE MASK!"