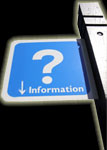 Looking to get your Goalie Mask or Goaltender Helmet CUSTOM Airbrush Painted?
Need some more information about EYECANDYAIR?
If you are looking for original, unique "one of a kind" airbrushed goalie mask art and designs, you have come to the right place! Steve Nash would love to hear more details about your design concept so he can create Ultimate EYECANDY for your goalie mask....but first, please check out the following list of most popular questions we get asked here at EYECANDYAIR.
1) HOW LONG DO YOU NEED MY GOALIE MASK IN THE STUDIO?
EYECANDYAIR specializes in custom goalie mask painting so we understand just how important your mask is to your game...and don't want you to be without it for a long period of time. The painting process itself usually only takes a few days from start to completion, and the average turn around time in the studio is about one week depending on the complexity of the art. However, Steve's art is in high demand and there is a waiting list for all custom goalie mask and helmet airbrushing. Our typical wait time is about six months, but this can range upwards to a year depending on our workload.
To ensure your mask does not just end up sitting here in the studio on a shelf while you are waiting for it to be airbrushed, we have developed a "BOOK BY DEPOSIT" system. This will enable you to reserve exclusive time for your custom design to be created and painted while allowing you to still be able to wear your goalie mask on the ice in the interim. We require a minimum of $50.00 to book in your paint job and hold your spot. *This is a non-refundable deposit but does go towards the cost of your paint work*.
All custom goalie mask art and designs are accepted and booked in after a price for paint has been established. If you'd like to know more about our current wait times, obtain a price quote or have further questions about our unique booking system, please send us an email.
Please note Steve is very detail oriented and all masks are guaranteed traditionally hand painted/illustrated and airbrushed -WE DO NOT USE IMAGE SUBLIMATION, VINYL TRANSFERS OR ANY OTHER "TRICKS"- so all booking times given are guidelines. Steve will not rush his art and some mask designs do take longer to render than we anticipate. Don't leave your request to the last minute or start of the hockey season, book now to hold your spot and avoid disappointment!



2) ARE YOU FACTORY AUTHORIZED TO PAINT MY GOALIE MASK?
Steve Nash/EYECANDYAIR is proud to be a factory authorized and approved custom painter/ mask artist for only the very best and most reputable goalie mask manufacturers: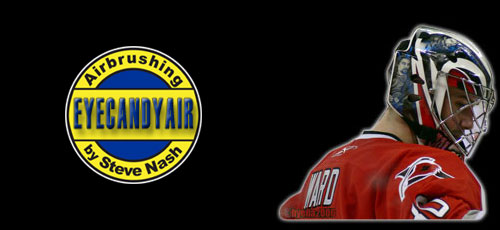 SPORTMASK
Vaughn Hockey
Pro's Choice
Warwick Mask Company
Bauer
Pro-Masque
Masked Marvel Goalie Helmets

3) WHAT ABOUT COST AND HOW DO I PAY FOR EYECANDYAIR ART?
All artwork is guaranteed to be traditionally hand painted/airbrushed personally by Steve Nash. Original custom illustrated goalie mask concepts START at $950.00 CDN. Airbrushing for goalie mask backplates/skull caps and other canvasses vary and are accepted on a very limited basis.
The price of your design is largely determined by the amount of detail, intricacies and time it will take to render the artwork and complete your request. For example, a PRO-style, bold graphic design airbrush painted on your goalie mask would be less expensive than semi-realistic portraiture and tribute style art. It's not about how many colours are in your design, it's about how much detail your paint job entails and how long it will take Steve render the art.
To obtain a quote for paint work from EYECANDYAIR, please send us a detailed email about your project and include any reference images you have. Please indicate the make, model and condition of your goalie mask, along with which currency you'd like your quote in.
Once a price has been agreed upon, we can schedule in your goalie mask to be painted with a minimum $50.00 non-refundable deposit and the balance of the payment is due PRIOR to your freshly painted airbrushed mask leaving the studio. WE DO NOT ACCEPT CHECKS**
Please note: Painted masks picked up locally or shipped anywhere in Ontario (and most provinces) in Canada are subject to 13% HST.
USA/International customers *may* incur customs or duties taxes- this varies depending on where you live. For more information, please contact your local customs agency. Taxes listed above apply to Canadian customers only.



4) DOES THE COST OF PAINT INCLUDE A GOALIE MASK?
You must supply your own goalie mask. Your mask does not have to be new or unworn, in fact we encourage you to wear it and get a good feel for it before investing money into the artwork.
Some goalie masks cannot be painted so please ensure you advise us of the make and model number of your mask. If you are booked in for paint and thinking about purchasing a new mask, please let us know before you do so. email
We do not sell masks at EYECANDYAIR, you can visit our GOALIE LINK Page for a list of reputable retailers we work with.



5) CAN YOU DO A CONCEPT SKETCH FOR MY GOALIE MASK DESIGN?
In most cases sketching is not necessary and Steve will ask for artistic freedom to layout the design on your mask while he is painting. This is the best way to achieve ultimate Mask EYECANDY! If your design is complex and a sketch is required, one can be rendered for you once we are in possession of your goalie mask.



6) CAN STEVE PAINT A DESIGN LIKE THE ONE MY FAVOURITE GOALIE IS WEARING ?
Like most artists that spend a lot of time and effort creating their original pieces, Steve is extremely passionate about his art and prefers to work with his own custom designs and ideas. He is very accurate at putting what you visualize in your head on your head....literally! Every project should be a total reflection of the goalie wearing it. This is why you want to get a custom airbrushed design to begin with rather than some "stock" off the shelf product that the opposing team's goalie could also show up wearing!
Please do not send us other artist's work and ask Steve to replicate or copy it- he won't. Steve also prefers not replicate his own works and would rather come up with new ideas for every mask he paints. Everything you see on the EYECANDYAIR website is art Steve has created and painted for other goalies. We do not offer any stock mask designs. If there is a paint job you've seen that you MUST have, we can use elements of the design to create an original piece of art especially just for your mask.
We do however, offer AUTHENTIC REPLICAS of *some* of our Copyright© PRO designs. PRO MASK GALLERY Please send us an email for further information.

7) MY GOALIE MASK HAS ALREADY BEEN AIRBRUSH PAINTED CAN YOU PAINT IT AGAIN?
If your mask has been painted by an accredited professional painter than it should not be a problem.
EYECANDYAIR does not recommend that anyone other than a professional attempt to paint your goalie mask. There is a lot more involved with the process than just putting "colour on the canvass".
If your goalie mask was not painted by a professional goalie mask airbrush artist than a $100.00 charge will apply to remove the old paint.

*We reserve the right to refuse service if we feel the mask is damaged or should not be painted.*



8) I WANT STEVE TO BRING MY MASK IDEA TO LIFE - WHAT'S THE NEXT STEP?
You can ask us for a quote via email (please specify currency), or you can phone us directly at (416) 893-2702. If you are local to the Woodbridge, Ontario area you can make an appointment to come into the EYECANDYAIR studio and meet with Steve in person. Otherwise, the entire mask painting process can be very easily achieved through email or phone once you have either arranged to ship us your mask or booked in with your deposit.
We ship worldwide and paint for goalies of all levels!



9) DO YOU AIRBRUSH PAINT ANYTHING OTHER THAN GOALIE MASKS AND HELMETS?
Almost every project that comes into the EYECANDYAIR studio is a request for custom goalie mask airbrushing as Steve Nash specializes in works of art for your goalie mask.
Requests for art on alternative canvasses will be considered depending on our workload. Please visit the Other Art Page to view Steve's portfolio showcase.





Contact EYECANDYAIR Today to Make Your Goalie Mask Art Dreams a Reality

via EMAIL: info@eyecandyair.com

or PHONE (416) 893-2702
"A GOALIE MASK WITHOUT EYECANDY.....IS JUST A GOALIE MASK!"