Welcome to the EYECANDYAIR Goalie Links Page!
EYECANDYAIR has been putting together a directory of weblinks for the most useful goaltending sites that we have found over the years.
If YOU are a webmaster or owner of a goalie or hockey related web site that you feel our visitors and customers would enjoy or find useful, please inquire about a link exchange with EYECANDYAIR.
We welcome all inquiries, please send us an EMAIL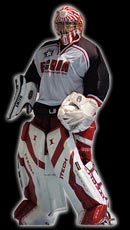 Professional custom airbrush painting by "The Goalie Mask Specialist" artist Steve Nash of EYECANDYAIR in Toronto - Ontario, Canada. Factory authorized and approved custom mask painter all major goalie mask manufacturers: Sportmask, BAUER, Vaughn Hockey, Pro's Choice and Warwick.




"Like" EYECANDYAIR on Facebook! Get daily updates on our freshly painted custom goalie mask designs by subscribing to our fan page.



Check it out!! EYECANDYAIR has their very own YouTube Channel where we feature members of our goalie family showing off their moves. If you are sporting a custom painted goalie mask by EYECANDYAIR and have any footage of yourself, please send it in and we will put it on our channel!



Follow EYECANDYAIR @eyecandyair on "Twitter" for the latest news straight from the paint studio!



SPORTMASK
VAUGHN HOCKEY
PRO'S CHOICE
BAUER
WARWICK MASK COMPANY




Goalie Heaven Toronto's only store dedicated to servicing the unique requirements of goalies
The Goalie Crease The ULTIMATE stop for all your goaltending needs
Just Hockey Two locations in the GTA to serve your ice hockey and goaltending needs.




McGuire Goaltending and Hockey Development Full service year round training for Goaltenders and Players of all ages and levels. Based in Toronto, Canada.
Massachusetts Crease Massachusetts Crease Goaltending Camps Schools Skills by Brian Eklund.
Tim Thomas Hockey Camps Summer hockey camps for forwards, defense and goalies of all ages and backgrounds. Based in the Boston, MA area.
Tendy Setups Bringing you some of the greatest setups from around the world, including gear reviews and featured interviews. Submit YOUR setup!



Canadian Chihuahua Rescue and Transport Please support this organization. They assist in finding homes for Chihuahuas whose owners can no longer care for them. They are a rescue that fosters and provides necessary veterinary care for homeless, abandoned, neglected, abused or unwanted Chihuahuas.
Hockey Toronto Your guide to hockey in Toronto
JOHAN WALDENSTRÖM Extremely talented artist/designer specializing in hiphop-graffiti letter styles and various musical compositions.


The EYECANDYAIR Goalie Links and resources page was last updated May 10, 2021