Welcome to the EYECANDYAIR Airbrushed Painted Goalie Mask Archive Gallery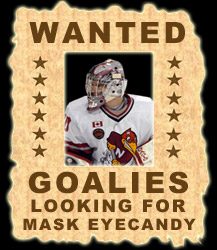 These archive gallery pages are jam-packed with our all time favorite custom airbrush painted goalie mask designs.
At EYECANDYAIR, every goalie mask concept is created with as much customer input as possible in order to create a design as individual and unique as the goaltender wearing it. You wont find any "made to order" or "pre-painted" designs in the EYECANDYAIR goalie mask galleries. The paint jobs that fill this showcase portfolio are just an example of Steve's artistic capabilities and what he can do to make YOUR goalie mask one-of-a-kind and unique!
Contact EYECANDYAIR Today to Make Your Goalie Mask Art Dreams a Reality
via EMAIL: info@eyecandyair.com

or PHONE (416) 893-2702
"A GOALIE MASK WITHOUT EYECANDY.....IS JUST A GOALIE MASK!"