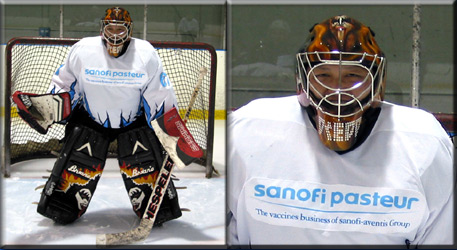 EYECANDYAIR was able to catch up with a member of our goalie family
Ed (DREDD) Yip from Toronto, Ontario
To do this special exclusive one-on-one interview!
ECA: What inspired you to be a goalie?
EY: "Watching Ken Dryden playing in Montreal was amazing. Then Mike Palmateer because he was a southpaw. And he would make these amazing diving/flopping saves!! It's too bad they burned him out way too early."
ECA: How old were you when you started?
EY: "Uh, Grade 6, whatever age that was. I took high school and University off, but once I had a full time job, it drew me back."
ECA: What is the highest level you have played?
EY: "I never played "real league" hockey, but I always played with the guys who played "Rep hockey" when they played shinny. At this moment, I am playing in a mix of mid level, ex- college/Junior C and a couple of guys that made it to the big show for a couple of games 25 years ago."
ECA: Did you ever have a goalie coach?
EY: "Nope, never, but if I did that would help me learn Butterfly style."
ECA: How many times a week do you play?
EY: "I am a positional & a flop goalie."
ECA: How many times a week do you play?
EY: "I play 2-3 times a week in the winter and once a week in the summer."
ECA: What are your strengths?
EY: "Positionly I am strong and I have a good glove hand."
ECA: Care to add weaknesses?
EY: "I can be lazy going down to block the puck (especially after a long day at work)."
ECA: Who is your favourite NHL goalie?
EY: "Olaf Kolzig- cool name, great community person and totally wicked screaming eagle team logo."
ECA: What type of gear are you wearing?
EY: My KISS themed goalie gear in Demon red, black & white:
Vaughn 7000 chest protector
Vaughn goalie jock
Simmons 992 glove
Simmons Ultra 2 blocker
Brian's Atramax goalie pants
Brian's fully customized Altramax 34" goalie pads with Gene Simmons of KISS face on the shin pad and my nickname "DREDD" embroidered on a patch
Sportmask T3 mask w/ SS catseye cage, airbrushed by EYECANDYAIR with the DEMON/DREDD theme.
What can I say, I've been KISS KRAZY ever since I was 8 years old and heard Rock and Roll all Nite!! My pride and joy are my autographed Les Paul by the original members- Eric Singer and Bruce Kulick and my pinball machine.
ECA: Do you have any game superstitions?
EY: "None, other than having my pre-game beer to help loosen up the old bones...."
ECA: Any advice to other goalies out there?
EY: "Follow your dreams. You can reach your goals. I'm living proof! Beefcake, Beefcake, BEEFCAKE- Eric Cartman (South Park)."

Ed, that was so much fun! Thanks for taking time to chat with us and share your goaltending experiences and thoughts for all to read.
Best of luck on the ice!
If you are a member of the EYECANDYAIR family and would like to be a featured goalie, please send us an email info@eyecandyair.com