EYECANDYAIR was able to catch up with a member of our goalie family
Stephane Thouin from Brossard, Quebec
To do this special exclusive one-on-one interview!
ECA: What inspired you to be a goalie?
ST: I thought it would be cool to be in net with the gear and all. When I was 8, we took turns in goal and whoever looked to have some "talent" in the net was eventually considered a goalie. I liked it and I asked my father to become a goalie...which his wallet didn't enjoy for a couple of years!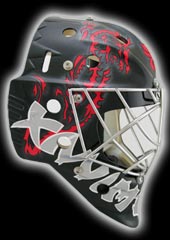 ECA: How old were you when you started?
ST: First official year in nets was when I was 9. I played until I was 17 then stopped for 10 years (biggest mistake ever) and started back 4 years ago.
ECA: What is the highest level you have played?
ST: Midget B in minor hockey. I now play in a B level league.
ECA: Did you ever have a goalie coach?
ST: Not a goalie coach per se, but I did attend goalie school when I was 10 years old.
ECA: What style of goaltending do you play?
ST: I'm more of a standup goalie. I do use the butterfly but not as much as I should...
ECA: How many times a week do you play?
ST: Winter: 2-4 times a week. Summer: at least once a week. I play all year round.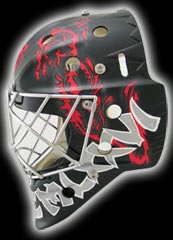 ECA: What are your strengths?
ST: Glove side and cross-crease slide when the play is behind the net.
ECA: Care to add weaknesses?
ST: Speed and flexibility, which is why I said earlier it was my biggest mistake to stop for 10 years.
ECA: Who is your favourite NHL goalie?
ST: Growing up my idol was Stephane Beauregard. In recent years, I'd have to say I like JS Giguere.
ECA: What type of gear are you wearing?
ST: My mask is an Itech 961SE, pads, blocker, trapper and chest/arms are all Eagle Fusion, pants are Itech 9.8, skates are Bauer Supreme 3000 and I play with Mathieu Garon RBK PS2 pro return sticks.
ECA: Do you have any game superstitions?
ST: I wouldn't call them superstitions but I have my regular routine: Always start putting my gear with the left side (left skate then right, left pad then right). I always put ice in my water bottle before leaving home because some rinks have less than cold water. I always try to have my gear bag on my right side in the locker room, else I feel unbalanced while putting my gear on.
ECA: Any advice to other goalies out there?
ST: If you like the game and you can manage to play it on a regular basis, don't stop for 10 years like I did, you'll end up regretting it.
ECA: Anything else you'd like to add?
ST: Steve and Steph are the best at what they do. They made my dream mask come to life and I now have the chance to have people turn their head and take a quick glance at my mask whenever I take it out of the bag. Every single game I went to play with people I didn't know brings it's share of questions and I feel proud to have my mask painted by Steve. Best decision I took for any part of my gear! Thanks to both of you and keep up the great work!

Steff, that was so much fun! Thanks for taking time to chat with us and share your goaltending experiences and thoughts for all to read.
Best of luck on the ice and enjoy your brand new EYECANDYAIR custom painted goalie mask!
If you are a member of the EYECANDYAIR family and would like to be a featured goalie, please send us an email info@eyecandyair.com