EYECANDYAIR was able to catch up with a member of our goalie family
Gary McAnulty from Deep River, ON- Canada
To do this special exclusive one-on-one interview!
ECA: What inspired you to be a goalie?
GM: As a young kid, Saturday night meant watching the Leafs, and the goaltenders always seemed bigger than life to me.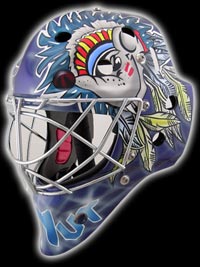 ECA: How old were you when you started?
GM: I was 5 or 6 I believe.
ECA: What is the highest level you have played?
GM: Minor Midget, House League.
ECA: Did you ever have a goalie coach?
GM: No.
ECA: What style of goaltending do you play?
GM: I play "stop the puck at all cost" style, probably butterfly would be most accurate.
ECA: How many times a week do you play?
GM: Four
ECA: What are your strengths?
GM: My glove can be very strong, I take away the bottom of the net well too.
ECA: Care to add weaknesses?
GM: I have a tendency to go down too early, exposing the top of the net. I fluster too easy, loose my temper and my game suffers.
ECA: Who is your favourite NHL goalie?
GM: Without doubt....Ed Belfour #20. But I also like Curtis Joseph, he has lots of heart.
ECA: What type of gear are you wearing?
GM: I am wearing Vaughn Velocity.
ECA: What kind of mask are you currently wearing?
GM: Bauer /Itech NV7
ECA: What was the inspiration behind your goalie mask design?
GM: My father who'd past away just as I had my first helmet done by Steve, was nicknamed Pat the Rat. It's a bit of a tribute.
ECA: Do you have any game superstitions?
GM: I eat 4-5 hrs before game time, I always use two colors of tape on my stick blade. I hate being deked in the warm up. Just shots.
ECA: Any advice to other goalies out there?
GM: Goaltending is 90% mental, try and stay relaxed, calm and focused keep your concentration even after a stinker, and NEVER quit on a play. I've made some hail Mary moves that have worked out when everyone thought the puck was going in. Know your weaknesses and work to improve them.
ECA: Anything else you'd like to add?
GM: Thanks for letting me interview.

Gary, that was so much fun! Thanks for taking time to chat with us and share your goaltending experiences and thoughts for all to read.
Best of luck on the ice and enjoy your EYECANDYAIR custom painted goalie mask!
If you are a member of the EYECANDYAIR family and would like to be a featured goalie, please send us an email info@eyecandyair.com