EYECANDYAIR was able to catch up with a member of our goalie family
Kierra L from Ontario, CANADA
To do this special exclusive one-on-one interview!
ECA: What inspired you to be a goalie?
KL: My cousin Jason inspired me, he was such an awesome goalie when I was young I wanted to be like him.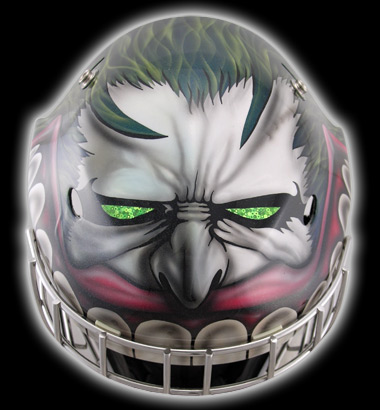 ECA: How old were you when you started?
KL: I was 7 years old when I started.
ECA: What is the highest level you have played?
KL: I play AA girls which is the highest level in girls hockey.
ECA: Did you ever have a goalie coach?
KL: I've always had a goalie coach from the day I started.
ECA: How many times a week do you play?
KL: I play 5 times a week and usually 1 or 2 lessons on top of that.
ECA: What are your strengths?
KL: My strengths are I am a very technical goalie and have great positioning, I also have quick feet.
ECA: Care to add weaknesses?
KL: My weakness is playing the puck from behind my net, although I am working hard to improve it.
ECA: Who is your favourite NHL goalie?
KL: Patrick Roy and Marc-Andre Fleury.
ECA: What type of gear are you wearing?
KL: I wear Vaughn!
ECA: What was the inspiration behind your goalie mask design?
KL: I love the Joker and left the rest to Steve, he had all the talent and inspiration for the mask.
ECA: Do you have any game superstitions?
KL: My superstition is I have to throw my reaction ball 50 times consecutively against a wall without dropping it. If I drop it I start all over.
ECA: Any advice to other goalies out there?
KL: I have no advice I leave that to the coaches who know much more than I.
ECA: Anything else you'd like to add?
KL: I would like to say thank you so much for my mask it is "PHENOMINOL" and worth the wait!!!!!!!

Kierra, that was so much fun! Thanks for taking time to chat with us and share your goaltending experiences and thoughts for all to read.
Best of luck on the ice and enjoy your EYECANDYAIR custom painted goalie mask!
If you are a member of the EYECANDYAIR family and would like to be a featured goalie, please send us an email info@eyecandyair.com