EYECANDYAIR was able to catch up with a member of our goalie family
Jake Kearney from Newmarket, Ontario
To do this special exclusive one-on-one interview!
ECA: What inspired you to be a goalie?
JK: When it was my turn at being goalie in my first year of hockey I loved it, so I never stopped!
ECA: How old were you when you started?
JK: When I first played goal I was 7 years old.
ECA: What is the highest level you have played?
JK: The highest level of hockey I have played was "A", but I have been a final cut for a "AAA" team twice.
ECA: Did you ever have a goalie coach?
JK: Yes, I currently work with Greg Redquest, at NTR in Newmarket.
ECA: What style of goaltending do you play?
JK: I play a hybrid style of goaltending.
ECA: How many times a week do you play?
JK: As much as possible.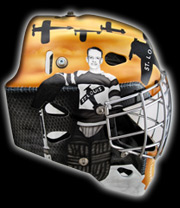 ECA: What are your strengths?
JK: My speed and flexibility.
ECA: Care to add weaknesses?
JK: I'm a small goaltender at times that works against me.
ECA: Who is your favourite NHL goalie?
JK: My favorite NHL goalie was Ed Belfour, but now I would have to say, Roberto Luongo or Cam Ward. But you just have to look at my mask to see my favorite of all time.
ECA: What type of gear are you wearing?
JK: I currently have Eagle gloves and pads, and a Hackva helmet with an awesome paint job by EYECANDYAIR.
ECA: Do you have any game superstitions?
JK: I like to win them!
ECA: Any advice to other goalies out there?
JK: Don't get discouraged.
ECA: Anything else you'd like to add?
JK: I can't wait for my next paint job!

Jake, that was so much fun! Thanks for taking time to chat with us and share your goaltending experiences and thoughts for all to read.
Best of luck on the ice and enjoy your brand new EYECANDYAIR custom painted goalie mask!
If you are a member of the EYECANDYAIR family and would like to be a featured goalie, please send us an email info@eyecandyair.com