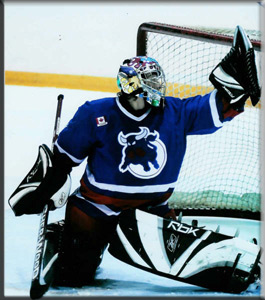 EYECANDYAIR was able to catch up with a member of our goalie family
Carmine Iannone from Mississauga, Ontario
To do this special exclusive one-on-one interview!
ECA: What inspired you to be a goalie?
CI: "I had never played hockey in my life and my good buddy Jamie told me that he was going to play goalie for the local house league team and said that I should try it. So I did, and I ended up falling in love with it."
ECA: How old were you when you started?
CI: "I was 8 when I started to play net."
ECA: What is the highest level you have played?
CI: "The highest level that I have played is what I currently play which is AA This is my third year in AA and I hope to move on even higher in the future."
ECA: Did you ever have a goalie coach?
CI: "Yes, Ive had a least a hundred different goalie coaches never really one solid goalie coach. Ive gone to John Elkins since I started so its been different coaches each year. Also, some of the teams Ive played on had a goalie coach such as Adam Jacobs of I.D.T hockey."
ECA: What style of goaltending do you play?
CI: "I really dont know...I like to think butterfly but I'll do anything to stop the puck so sometimes the style is just stop the puck. For the sake of the question I am going to say Standup-Butterfly though because that is what one of my early goalie coaches told me he was teaching me."
ECA: How many times a week do you play?
CI: "It depends on the week but I usually have 2 games and 3 practices. That includes goalie school, which can be one or two times a week."
ECA: What are your strengths?
CI: "I think my strengths are that I am very technical and I wont flop around unless it is absolutely necessary in desperation. I also think that I am good."
ECA: Care to add weaknesses?
CI: "Usually I am pretty good but one thing that gets a lot of goals scored against me is if the other team crashes the net. Thats all I can think of right now."
ECA: Who is your favourite NHL goalie?
CI: "Even though he's retired it has to be Patrick Roy. He was just great to watch and learn from. I also like Roberto Luongo right now.
ECA: What type of gear are you wearing?
CI: Right now I wear:
SPORTMASK beautifully painted by Steve Nash
Brians beast chest protector and jock
Some Bauer Neck Protector I found at an arena
Custom Reebok Pads, Glove, Blocker
Koho Skates
McKenney pants
Body Armor tights
ECA: Do you have any game superstitions?
CI: Yes I got a couple, they are:
never say "shutout" before or during a game unless the shutout has been broken
never look at the ref after you slash a guy in front of the net because then he will give you a penalty
never think your going to win/lose before the game even starts because you never no what is going to happen
ECA: Any advice to other goalies out there?
CI: "John Bower once told me to "Never give up the Dream" so I will pass that advice to any goalie aspiring to make it to the show and to any other goalie who just plays recreational my mom always tells me to "Play like you know how".

Carmine, that was so much fun! Thanks for taking time to chat with us and share your goaltending experiences and thoughts for all to read.
Best of luck on the ice!
If you are a member of the EYECANDYAIR family and would like to be a featured goalie, please send us an email info@eyecandyair.com