EYECANDYAIR was able to catch up with a member of our goalie family
Ian Graham from Toronto, Ontario
To do this special exclusive one-on-one interview!
ECA: What inspired you to be a goalie?
IG: Growing up in Montreal in the 1970s one could not avoid the Canadiens. One of my cousins introduced me to goaltending during a family visit to his house and this led to me picking up the sport at the age of 8. When Montreal Canadiens goaltender Ken Dryden came on the scene in 1971 I was truly inspired to play hockey at a competitive level and to play in goal.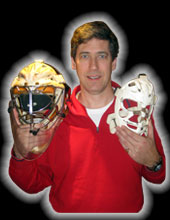 ECA: How old were you when you started?
IG: Age 8 in pick up mode. Age 10 in competitive school hockey in Quebec.
ECA: What is the highest level you have played?
IG: High school senior hockey (17 years old).
ECA: Did you ever have a goalie coach?
IG: At my school we had a weekly "goalers" practice with one of the teachers. I went to summer hockey school for two summers in the west island of Montreal in the 1970s. Can't remember who the goalie instructors were back then, but I think they were "second string". In 1977, I had an opportunity to get a 1 hour goalie lesson with Ken Dryden at the Montreal Forum during one of the team's practices. A true hockey highlight in my teen years.
After not playing hockey for 20+ years I picked up the sport again about four years ago. I was inspired by my son who was now playing goal at the AAA level. Three summers ago (2005) he and I did a week together at Tretiak's summer hockey school in Scarborough. Not surprisingly I was the oldest participant at the camp.
ECA: What style of goaltending do you play?
IG: I was a stand up goalie up until my "re-entry" into hockey four years ago. I am now a cross between a half-butterfly and full butterfly. I find the design of the equipment now is really for the butterfly style. The weight of the old equipment made one want to avoid going down on your knees as much as possible. The new equipment is so much lighter.
ECA: How many times a week do you play?
IG: Usually 3 times a week, all year around. I do play the odd extra skate which can lead to 5 or 7 skates a week! I play for fun and would never consider being a rent-a-goalie.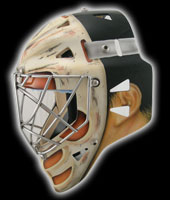 ECA: What are your strengths?
IG: Probably my leg kicks on the ice. I've developed a rather quick reflex to stopping pucks going low to the corners. At my age I consider that a strength.
ECA: Care to add weaknesses?
IG: Find it difficult to do "T- pushes" as well as I would like to. I would also like to control more rebounds.
ECA: Who is your favourite NHL goalie?
IG: While certainly not the best goalie to play the game, Ken Dryden inspired me to play the position. So after almost 40 years, I still pay tribute to him by wearing his #29 Canadiens jersey and having his original pretzel mask recreated on my EYECANDYAIR mask designed by Steve.
In 1977 when I first met him he signed a note to me saying "You are a promising goalie." That note was reproduced on the backplate of my mask.
ECA: What type of gear are you wearing?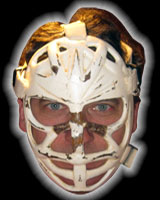 IG: I recently acquired a set of Brians G Zero pads and gloves in a retro leather look. I've really turned back the clock for a few of my hockey mates. I can't remember the last time I saw a waffle blocker at the rink. This equipment with the mask gives a real historical look.
ECA: What was the inspiration behind your goalie mask design?
IG: Dryden's pretzel mask was unique. While he only wore it in the early years of his career, I would argue he wore it in his most important years. This was the mask he wore to get into the NHL late in the season and subsequently win the Stanley Cup. It was also the mask he wore for Team Canada during the Summit Series of 1972. I wanted my mask to pay tribute to Dryden's early years.
ECA: Do you have any game superstitions?
IG: Not really, except for some reason I always put on my left pad before my right pad. I find myself noticing this everytime I get dressed.
ECA: Any advice to other goalies out there?
IG: Always have fun and don't get too down on yourself when one gets past you. Focus mentally before get on the ice and keep some water on top of net!
ECA: Anything else you'd like to add?
IG: Never let anyone tell you that you are too old to play hockey!

Ian, that was so much fun! Thanks for taking time to chat with us and share your goaltending experiences and thoughts for all to read.
Best of luck on the ice and enjoy your brand new EYECANDYAIR custom painted goalie mask!
If you are a member of the EYECANDYAIR family and would like to be a featured goalie, please send us an email info@eyecandyair.com