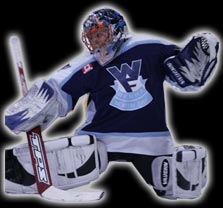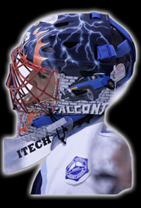 EYECANDYAIR was able to catch up with a member of our goalie family
Timmy Falconi from North Bay, Ontario
To do this special exclusive one-on-one interview!
ECA: What inspired you to be a goalie?
TF: Watching NHL games. I was always impressed by the goalies
ECA: How old were you when you started?
TF: I started playing hockey when I was 8...I wanted to be a goalie but my dad wouldn't let me in my first year. The next summer I took 3 weeks of goalie school. I was asked to try out for a "aa" team and made it! I have been a goalie every since.
ECA: What is the highest level you have played?
TF: I play Major Peewee AA during the season (it is the highest level we have) but with a AAA summer team.
ECA: Did you ever have a goalie coach?
TF: I have had many some with the teams I play for and some through camps and personal instruction. I do 5 weeks of goalie camps during the summer, some in North Bay and some in Toronto. I also work with a personal fitness trainer.
ECA: What style of goaltending do you play?
TF: I play a hybrid style...a patient butterfly.
ECA: How many times a week do you play?
TF: I am on the ice at least three times a week. My team will also be in 7 tournaments this season.
ECA: What are your strengths?
TF: I am good positionally and technically, I love goaltending and enjoy working to be better.
ECA: Care to add weaknesses?
TF: I do have some weaknesses but none that I am not working to correct!
ECA: Who is your favourite NHL goalie?
TF: My favorite NHL goalie is Marc-Andre Fleury, I met him after a game vs the Senators. He was cool. Even though he didn't have much time to visit his mother and sister he took time to give me an autograph and talk to me for a bit. Not to mention he played awesome.
ECA: What type of gear are you wearing?
TF: Mostly Vaughn (pads, blocker, trapper), I have Graf skates, a TPS composite stick and an Itech mask.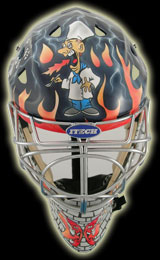 ECA: Do you have any game superstitions?
TF: Not really. I do tap my goal posts 6 times in between plays. I also make sure to get to the arena with plenty of time to get into game mode.
ECA: Any advice to other goalies out there?
TF: Work hard and have fun...the harder you work...the better you do...the more fun you will have...same advice as I get from my dad.
ECA: Anything else you'd like to add?
TF: I think you guys did an awesome job on my custom painted mask. It tells a lot about me. The Chef on top is because I love to cook, the FJ crusier on the side is because I like it and my family owns a Toyota store, the Tornado on the side is because I play for the West Ferris Tornados...I Love it!

Timmy, that was so much fun! Thanks for taking time to chat with us and share your goaltending experiences and thoughts for all to read.
Best of luck on the ice!
If you are a member of the EYECANDYAIR family and would like to be a featured goalie, please send us an email info@eyecandyair.com