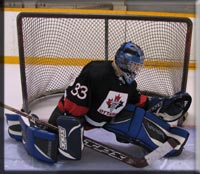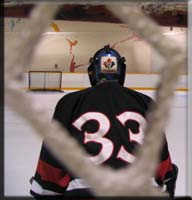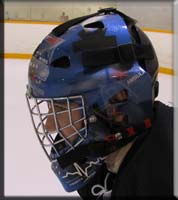 EYECANDYAIR was able to catch up with a member of our goalie family
Al Blanchard from Ottawa, Ontario
To do this special exclusive one-on-one interview!
ECA: What inspired you to be a goalie?
AB: "Watching hockey on TV as a kid and seeing the goalies out there being the heroes of the game, and seeing them pretty much be the reason for a win or a loss just appealed to me."
ECA: How old were you when you started?
AB: "Sadly I was about 18 years old. Long story short, I've always wanted to be a goalie but in my younger days my mother was scared I'd get hurt and refused to let me play goalie. Once I got to the age that mom couldn't tell me what to do anymore and I convinced her, I got to play in net."
ECA: What is the highest level you have played?
AB: "I only played houseleague hockey and one game for junior C (where I had a shutout). I started at the bantam 2nd year age so didn't really get a chance to try out for the big teams."
ECA: Did you ever have a goalie coach?
AB: "Hockey night in Canada was my only goalie coach. I watched the goalies play and try to mimic their stance and the way they moved. I did take part in a goalie clinic where I played but it was helping out as an instructor for the younger goalies of the organization."
ECA: What style of goaltending do you play?
AB: "I try and play butterfly.....but sometimes a flopping style."
ECA: How many times a week do you play?
AB: "During the summer I probably play twice a week and in the winter I play about 3- 4 times per week between work tournaments, leagues and rec hockey."
ECA: What are your strengths?
AB: "Hard question....I"d have to say point blank shots. For some reason I have pretty good reflexes and they get me out of tight situations. Maybe also rebound control if that counts."
ECA: Care to add weaknesses?
AB: "Beginners, players that are just starting out. For some reason the ones whom can't shoot really well, I can't read them. I find it very difficult to know where the puck is going. As far as what I think my weakness is- staying in the game. I find it hard to concentrate and be sharp all game especially when I don't get much work."
ECA: Who is your favourite NHL goalie?
AB: "Even though he is retired now, Patrick Roy. Come on I am a French Canadian! I just though he was great and could back up what he said. He is also probably the reason I am a butterfly goalie
ECA: What type of gear are you wearing?
AB: "Pads- Bauer Vapors, Blocker & Trapper- TPS Bionic, C/A: Itech"
ECA: Do you have any game superstitions?
AB: "Yes although I had quite a few more when I was younger, but now these are the biggest. When I get on the ice I skate directly to my net, stop with one skate and hit my blocker on the crossbar. I then skate backwards to start loosening up my crease. When that is done I skate around grabbing one puck and shooting it at the net. I then head off to the near side of the boards at the hash marks to stretch. During the game, when my team scores, I will hit my posts with my stick and glove 5x then each pad with my stick and glove 5x. Kinda weird huh?"
ECA: Any advice to other goalies out there?
AB: "Have fun and most of the time it's your defensemen's fault!"

Al, that was so much fun! Thanks for taking time to chat with us and share your goaltending experiences and thoughts for all to read.
Best of luck on the ice!
If you are a member of the EYECANDYAIR family and would like to be a featured goalie, please send us an email info@eyecandyair.com