EYECANDYAIR was able to catch up with a member of our goalie family
Adair J. from Ontario- Canada
To do this special exclusive one-on-one interview!
ECA: What inspired you to be a goalie?
AJ: When my Dad was a kid, he was a road hockey goalie so I decided to try it on ice since I already knew how to skate.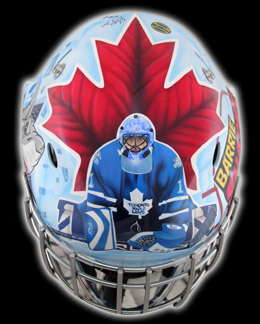 ECA: How old were you when you started?
AJ: I started playing ice hockey when I was 12 years old.
ECA: What is the highest level you have played?
AJ: I have played rep hockey for two years, and both have been at the BB level.
ECA: Did you ever have a goalie coach?
AJ: Last year I had an amazing goalie coach, Vern Butchart. I improved a lot that year because of his help. He really helped to identify my weaknesses and gave me exercises to do off the ice as well. He was a great coach and I was really fortunate to have his help.
ECA: What style of goaltending do you play?
AJ: I am mostly a hybrid goalie, I use the butterfly and whatever else works.
ECA: How many times a week do you play?
AJ: We have 2-3 practices and games a week, but my family also has a backyard rink so really I am on the ice every day. I also play road hockey all through the summer.
ECA: What are your strengths?
AJ: I am strong with my positioning, skating, and have a good butterfly.
ECA: Care to add weaknesses?
AJ: I need to work on the speed of my recoveries and glove hand.
ECA: Who is your favourite NHL goalie?
AJ: Andrew Raycroft of the Vancouver Canucks. He is an inspirational goalie and a nice guy too. I got the chance to meet him when he played for Toronto. I have several of his autographs and also one of his game-used gloves!
ECA: What type of gear are you wearing?
AJ: Sher-wood pads and gloves, and CCM skates.
ECA: What kind of mask are you currently wearing?
AJ: SPORTMASK, custom-painted by EYECANDYAIR!
ECA: What was the inspiration behind your goalie mask design?
AJ: I wanted to put a picture of Andrew Raycroft on it, and since I play for the Barrie Sharks, the shark on the side made sense. I wanted it to be a mean shark and the fact that it is bursting through the ice represents that well.
ECA: Do you have any game superstitions?
AJ: They're not so much superstitions as routines, but I like to eat the same pre-game meal (pasta, peas, and fish or peanut butter), and I listen to my favourite song over and over on the way to the rink. Also once my equipment is on I visualize saves that my favourite goalies have made.
ECA: Any advice to other goalies out there?
AJ: Just work really hard, eat well and practice all the time. Also remember that the next save is always more important than the last goal..
ECA: Anything else you'd like to add?
AJ: I want to thank EYECANDYAIR for my awesome new mask! I absolutely love it and my entire team is in awe of it as well. The whole experience was a great one.

Adair, that was so much fun! Thanks for taking time to chat with us and share your goaltending experiences and thoughts for all to read. Best of luck on the ice and enjoy your EYECANDYAIR custom painted goalie mask!
If you are a member of the EYECANDYAIR family and would like to be a featured goalie, please send us an email info@eyecandyair.com